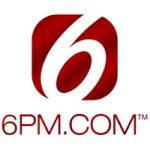 육피엠 오늘 하루 10% 전체 주문 할인되는 쿠폰이 나왔습니다. 할로윈을 앞두고 트릭올트릿 하시라고
쿠폰은 TREATS10  . 선착순 육만명입니다.
6PM.COM: Trick or Treat? We pick Treat! Here's an extra 10% off your entire order to get all the Treats you want! Use coupon code: TREATS10. 1 Day Only! (10/27)
One use per 6pm account. Valid for the first 60,000 uses or until 10/27/15, 11:59pm PST!